Seven Suns: An Unlimited Special Effects Budget
It's summer blockbuster movie season, and we're ready for the biggest movies of the year. Gigantic budgets, incredible special effects, 3D IMAX, fantastic colors, amazing images, explosions, monsters, super heroes. The studios promise to show you things that you've never seen before.
But, I have. In my imagination, as I develop my stories and write my novels. I've seen things that no filmmaker could ever put on screen. With words, you see, I've got an unlimited special effects budget.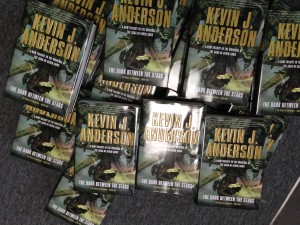 Years ago, when I was writing my first X-files novels, I asked Chris Carter, the show's creator, what kind of story he was looking for. Chris said, "Write something so big that I could never afford to do it as an episode. You're not constrained by set limitations, location shots, or effects budgets. Take advantage of that."
So, I did. And I've always remembered that advice. I like thinking big, telling stories that are constrained only by my imagination and nothing else.
I've written epic Star Wars novels, Dune novels with Brian Herbert, as well as our big and complex Hellhole trilogy, and my Terra Incognita fantasy trilogy about sailing ships and sea monsters. But my greatest creation of all, I think, is my Seven Suns universe, originally published as a seven novel series, and now I'm embarking on a brand new standalone trilogy, The Saga of Shadows.
It's the biggest canvas I've ever written on, the grandest story, the most complicated cast of characters, and a labyrinth of interconnected plots. I can feel James Cameron quaking in his boots.
You want alien planets? You got 'em–a whole Spiral Arm full of them. Lava planets, ice planets, stormy gas giants, ocean stations, alien capitals, a jungle planet with gigantic interconnected sentient trees (hmm, maybe James Cameron is trembling after all), ancient abandoned cities on desert worlds.
There's a race of intelligent and murderous insects, as well as killer black robots. An empire of benevolent aliens who look mostly human on the outside, but have tremendous differences. A dimensional transportation network, telepathic priests who can commune with trees, outlaw space gypsies. And monsters. Did I mention monsters?
Each new idea in the Seven Suns universe led to a character or a storyline that would allow me to feature the concept, because when I developed such fantastic images, I had to use them somehow. The first volume of my new trilogy, THE DARK BETWEEN THE STARS, is a 672-page tome, and I crammed everything I could into it, but had plenty to spare for the remaining two volumes.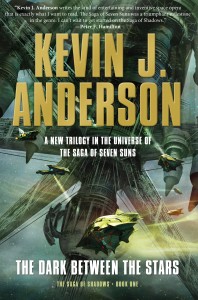 An energy-harvesting industrial station in the center of a blazing nebula, a huge derelict space city filled with the bodies of an extinct alien race, a hollowed-out comet that serves as a school. And of course there are incredible creatures: destructive elemental beings composed of pure fire, a race that lives in diamond-hulled chambers at the cores of gas-giant planets, a huge dragon insect that preys on a quiet fishing village—and the terrifying Shana Rei, the creatures of darkness, that are entropy incarnate with a desperate quest to unravel the universe itself.
Yeah, all that would probably be too cost-prohibitive to film.
I had so many colors and images in my mind as I came up with one idea after another, building upon concepts that I developed for previous scenes. I did my best to visualize them, but I'm no artist.
Before writing the original Saga of Seven Suns, I hired one of my comic artists, Igor Kordey, to help me put it down on paper. I gave him the outline for the series, my write-ups of the history, the characters, and the cultures . . . and I turned him loose. Igor did close to fifty sketches, developing the architecture and clothing of the Ildiran Empire, and the magnificent crystalline Prism Palace, where the Mage-Imperator ruled. He sketched out the types of organic buildings that Therons would construct in their gigantic worldtrees.
And he did more than sketches. Igor presented me with three complete paintings: a gypsy Roamer standing on the deck of a skymine looking down at the stormy clouds of the gas giant his factory was harvesting. Another painting shows a desert world with the empty ruins of a Klikiss city and the insidious beetle-like robots they constructed. And a third painting shows the bizarre and exotic hydrogue city in the high-pressure depths of a gas giant.
I used those images as reference when I wrote my novels, and I built upon them, creating even larger landscapes. After all, I had an unlimited special effects budget and I intended to spend every penny.
THE DARK BETWEEN THE STARS is one of my biggest, most ambitious novels ever. Writing it was immensely satisfying, and now it's the reader's turn to interpret those words, enjoy the story in their own minds on the screen of their own imagination—because as a reader, you have an unlimited effects budget too.
And, yes, Book 2, BLOOD OF THE COSMOS, is written and I am editing it now for release next summer.