Sneak Preview BLOOD LITE 3: AFTERTASTE Cover
Hot off the presses, first look at Pocket's new cover for BLOOD LITE 3: AFTERTASTE.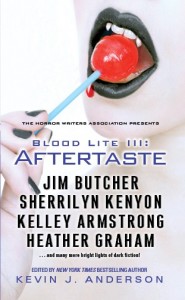 This third installment in the hilarious BLOOD LITE anthology series, which I've edited for the Horror Writers Association, contains thirty all-original stories by:
Jim Butcher
Kelley Armstrong
Heather Graham
Sherrilyn Kenyon
Christopher Golden
Mike Resnick & Lezli Robyn
Nina Kiriki Hoffman
Jeff Strand
John Alfred Taylor
Jeff Ryan
Joel Sutherland
Eric James Stone
Lisa Morton
E.S. Magill
Mark Onspaugh
Mike Baron
JG Faherty
Stephen Dorato
Will Ludwigsen
Daniel Pyle
David Sakmyster
Norman Prentiss
Don d'Ammassa
Adrian Ludens
Chris Abbey
D.L. Snell
Ken Lillie-Paetz
Brad C. Hodson
Lucien Soulban
and one of the very last stories by L.A. Banks before her recent death.
The anthology comes out in paperback next summer. The first two BLOOD LITE volumes are currently available in paperback.