Teaser Tuesday: PULSE POUNDERS
Take a seat in your favorite reading chair and buckle up.  The new volume of Fiction River just came out today, guest edited by me, an anthology is fast-paced non-stop adventure stories, PULSE POUNDERS. Available in trade paperback format and all eBook formats.  For those of you who can read an ePub version, the Kobo Special Edition of the anthology has three extra stories…to keep your pulse pounding even longer after the regular-edition readers have finished their last story.
PULSE POUNDERS is a mix of straight suspense, science fiction, espionage, pulp adventure, fantasy, mystery—the only criterion was that they all be exciting. Contains all new fiction by JC Andrijeski, Patrick O'Sullivan, Thomas K. Carpenter, David Farland, Jamie McNabb, Ron Collins, Brigid Collins, Dayle A. Dermatis, Phaedra Weldon, Kristine Kathryn Rusch, Chuck Heinzelman, and (exclusive to the Kobo bonus edition from http://www.kobo.com) Diana Deverell, Leah Cutter, and Kim May.  AND, there's a new, never-before-published thriller by Frank Herbert, "The Yellow Coat," as well as a science fiction suspense novelette "Change of Mind" by me and Pete J Wacks.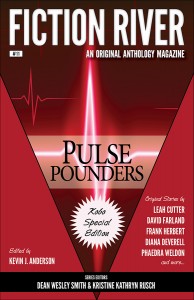 Here's my Introduction to the volume:
Strap Yourself In and Hold On
We're not wasting any time here.
Typically, a reader will sit back in a comfortable chair with a good book to enjoy the writing, experience the adventure, get to know the characters. This book delivers all that—but you'd better fasten your seatbelt, too.
A "pulse pounder" is a story that plunges you eyeballs-first into the action; a bungee jump to the heart of the plot, rather than a slow relaxing stroll.
Brace yourself. This isn't chic lit with long leisurely chapters of subtle character development, everyday life, social interaction, mundane telephone conversations, with eventually maybe, maybe, something happening (or is it just a dream?).
These aren't creative writing class stories, where characters express their angst at great length, usually about a flawed or strained relationship breaking up, with a climactic conversation over the breakfast dishes. The end.
No, pulse pounders are stories that (often literally) start with a bang. If you're not engulfed in the tale by the bottom of page one, then the pulse pounder has failed. This poses an added challenge to the writer, like a mixed martial arts match: He or she has to get you completely involved in the characters and make you care for them, while building the world and explaining the situation—usually a crisis—in a paragraph or two. No time to waste. You have to understand the people, the set-up and the problem, all while you're in the midst of the action. That takes a very special skill.
And these guys have that special skill.
Pulse Pounders contains a variety of genres, from straightforward mainstream thrillers, such as J.C. Andrijeski's "The Chair," Dayle A. Dermatis's "The Scent of Amber and Vanilla," and David Farland's "Big and Shady," a tale of an American screenwriter caught up in a Chinese Mafia effort at filmmaking—a story that is, sadly, far too true to Dave's personal experiences.
We have time-travel thrillers, such as Chuck Heintzelman's "Three Strikes" and Thomas K. Carpenter's "Tower One," and near-future high-tech SF in Ron Collins's "Fraternization," as well as far-future hard science fiction in Jamie McNabb's "Daisy Wong: The Hell of the Unprepared Sinners," Kristine Kathryn Rusch's "Sole Survivor," and my own, "Change of Mind," written with Peter J. Wacks. We have Phaedra Weldon's urban fantasy "The Mer," and the delightful fantasy, "Frostburnt," by Brigid Collins, a story I enjoyed so much that even though it wasn't written for my anthology, I stole it from a different one. And there's flat-out pulp adventure, in Patrick O'Sullivan's "A Man of His Times."
And a special treat, a previously unpublished thriller written by grandmaster Frank Herbert, author of Dune. While I was editing a collection of Herbert's unpublished short stories, which I'll publish through WordFire Press, I came upon "The Yellow Coat," a tense story about a bank robbery gone wrong and the robbers' desperate flight through the wilderness—it seemed like a perfect pulse pounder. When I mentioned the story to Fiction River series editors Dean Wesley Smith and Kristine Kathryn Rusch, they insisted that I include it here.
Even with this great selection, I couldn't fit in all the stories I wanted to include, due to silly reasons like budgets and page counts and word limitations. Then, as an unexpected opportunity, Kobo sponsored a special edition of Pulse Pounders. This extra boost allowed me to include three more stories that were dear to me, as exclusive additional content to the Kobo electronic edition.
"Thanks to Kobo, I am very pleased to include a Jason Bourne-style spy thriller, "Blown," by Diana Deverell, Leah Cutter's vivid historical story about Chinese tongs and the opium wars in Vancouver, "The Messenger," and a great action-packed battle aboard a space station in Kim May's, "The Void Around the Sword's Edge."
Take a breath, turn the page, and let your pulse start pounding.
—Kevin J. Anderson
Monument, Colorado
May 15, 2014