A Vertical Horizon concert and a mountain summit
Being a writer, I don't often have "typical" days.  And that's been typical lately.
On Saturday, we went to see Vertical Horizon in concert in the SkySox stadium in Colorado Springs.  I first met Matt Scannell, the front man for Vertical Horizon, last November backstage at the Rush "Clockwork Angels" concert in Anaheim, through our mutual friend Neil Peart.  Neil has been talking about Matt to me for a long time, and apparently he's been talking to Matt about me.  It was great to meet him in person, and we hit it off immediately. A few months later, Rebecca and I met up with Matt for a Vertical Horizon concert at the Grizzly Rock club in Denver. And we planned ahead for this Colorado Springs event.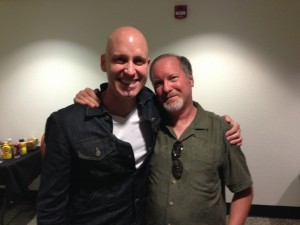 I had hoped for some extra time to show off the natural wonders of the area to Matt, but he flew in at 10:30 AM and had sound check at 11:30 (a sound check that met numerous difficulties and lasted for many hours; I was receiving more and more depressed-sounding texts from Matt as they tried to set up in time for the concert.)  Rebecca and I drove into Colorado Springs to visit our good friend Alan Lickiss in the hospital, then met son and daughter-in-law Jonathan and Jessica for a sushi dinner before the concert.  Jessica was a Vertical Horizon fan from her high school days, and Jonathan did his best curmudgeon impression. I got tickets for us all, and they even brought our grandsons Harrison and Xavier.  We hung out backstage before the concert, then went out to our seats as the sun set and the stage was prepped.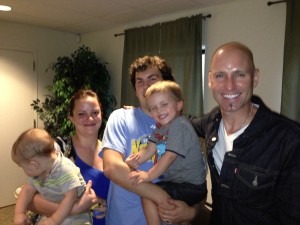 This was Harrison and Xavier's first concert, and we did our grandparently duties by getting a stadium Dippin Dots ice cream for Harrison to make a mess out of (and attempt to share with his baby brother).  There was just enough room for Harrison to run around and burn off energy. When the music started, I took 1-yr-old Xavier on my lap—and amazingly he completely relaxed to the songs and soon conked out completely.  Then by half time, Jessica took Xavier back, and I bounced Harrison on my lap; he seemed to enjoy the clapping and pounding and dancing, the more enthusiastic the better.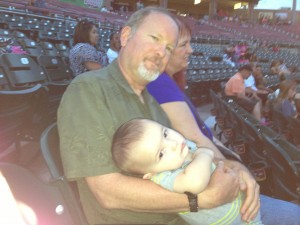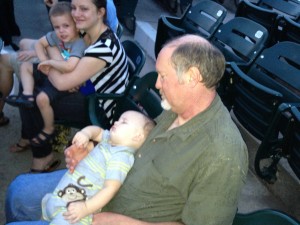 After the concert was over, the kids stayed in the stadium to watch the fireworks show, while Rebecca and I went back to talk with Matt more.  This was the last show of a very long and gruelling concert tour (even before their new album comes out in October), and he was very much looking forward to going home.
Sunday was a busy day wrapping up the final manuscript of THE DRAGON BUSINESS, then Monday I wrote two chapters in HELLHOLE INFERNO and caught up with a lot of busy work, preparing for a hike and mountain climb I had planned for Tuesday.
Mount Volz, in a mountain range between the towns of Como and Breckenridge, on the fabled Boreas Pass Road (a lovely rugged road, with a high pass named after the god of the winds).  Mount Volz was only 12,589 ft high, well above treeline, and without a trail, but the guidebook didn't list it as particularly strenuous (these things are *relative* for all you couch potatoes out there!)  I took my notes for HELLHOLE INFERNO, my recorder, my backpack, a nice lunch, and left early…just in time to reach stopped traffic for road construction and then stopped traffic from an accident.  I got to the trailhead almost two hours later than planned, but the projected afternoon thunderstorms did not seem imminent, so I set off across the open hills, following the general directions in the book.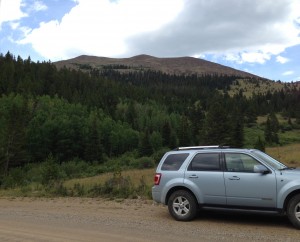 This was a much different hike from the ultra-crowded Fourteener climb of Mt Bierstadt I did last week!  Solitude, scenery, and good inspiration.  The trail was steep enough that I got only half a chapter written on the way up, but I enjoyed the hike immensely.  I had the summit all to myself, ate my lunch, called home to report that I had made it (at least half way) safely. Then headed down to finish the chapter.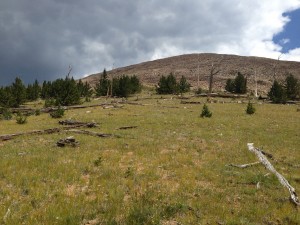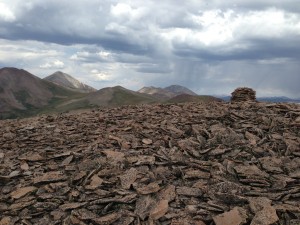 I got back to the car just as the first sprinkles started to fall, then drove down the rugged Boreas Pass Road to the highway and headed back to Denver. In total, I wrote three new chapters in HELLHOLE INFERNO. The story is really starting to fire up now.
I made a brief side trip to the Golden City Brewery and picked up a growler of one of my favorite IPAs, then stopped at the Cheesecake Factory to get salads for Rebecca and me for dinner. On the way home, I had a very nice conversation with our dear friend (and fan club president) Deb Ray.
I have another nice mountain climb planned for Saturday. I have to get my wilderness fix in before diving into the crowds of Dragoncon and then Salt Lake City Comic Con!