Wedding Anniversary—22 Years!
Twenty-two years ago I married Rebecca Moesta, a fellow technical editor at the Lawrence Livermore National Laboratory, who was also the president of the science fiction club at the Lab.  Because I had two books published (RESURRECTION, INC. and GAMEARTH), Rebecca had invited me to speak to their group.  When I met Rebecca at the doorway to the auditorium, it was love at first sight (that's my story, and I'm sticking to it).  The rest, as they say, is history.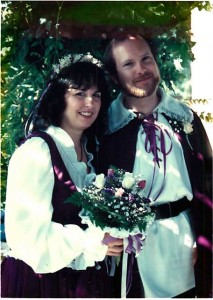 We dated for more than a year, before I proposed by giving her a note and leading her on a scavenger hunt all around my townhouse, note after note, before she finally found the one that asked her to marry me.  We had gone to many science fiction conventions together, and rather than spending ridiculous amounts of money on a traditional wedding dress, we hired a Renaissance Faire clothier to make our outfits. (We saved a lot of money, and decided to spend it on the honeymoon instead.)
We got married in our backyard, which was a beautiful landscaped garden—a ceremony officiated by a former girlfriend of mine, who was also an ordained minister. (Yes, I tend to stay on good terms with people I've been close to.)  Our "best people" were Kristine Kathryn Rusch and Doug Beason.  Our wedding photographer was Nina Kiriki Hoffman. All of us were new writers starting out in our careers—and since then, Kris has published nearly a hundred novels, won countless awards including the Hugo and World Fantasy, and edited The Magazine of Fantasy and Science Fiction. Doug Beason and I wrote eight novels together, and he published three of his own as well as non-fiction works; he served in the President's Science Office and retired from the Air Force as a full Colonel. Nina Kiriki Hoffman is a World Fantasy Award and Nebula Award winning writer particularly known for her YA fantasy work.  All of us—me, Rebecca, Kris, Doug, and Nina—went on to become judges for the Writers of the Future Contest.
Do we know how to pick a wedding party, or what?
Kris wore a Renaissance costume, and Doug wore his full Air Force uniform. He even cut the wedding cake with his ceremonial sword.  Instead of crazy wedding planners, our wedding was an outpouring of love from our friends.  Instead of an extravagant florist, we arranged with the local Safeway floral shop to buy tons and tons of flowers which we arranged all over the house and yard. Instead of catering the reception, our friends wanted to tackle the chores: one friend asked if he could bring a couple of spiral-cut hams. Others baked their specialties from old family recipes.  We had so much food, all prepared by people who wanted to show off for our wedding.  Instead of an overpriced wedding cake, Rebecca and I decided we liked pies better than wedding cake anyway, so we ordered every kind we could imagine from the local Baker's Square, as well as one of their huge carrot cakes.
Everything went off without a hitch.   Next morning, we flew off to our honeymoon in Kauai, a glorious tropical paradise. The island was still abuzz because Steven Spielberg had just finished shooting a new film there, something called Jurassic Park…
Twenty-two years—even in my wildest dreams I couldn't imagine how much we would do, how much we would see, how many things we would accomplish.  I feel like we're just getting started.