Writers of the Future Awards 2011
One of our highlights every year is to attend the Writers of the Future workshop and awards, the genre's most spectacular awards ceremony.  I have been a judge in the contest since 1996 and Rebecca became a judge in 2007. Last year, I gave a speech describing the first 25 years of the contest, which has just been posted on YouTube. It's less than four minutes long.
For the first part of the week, the 12 new writer winners attend a thorough and intensive workshop taught by Tim Powers and KD Wentworth, with numerous guest speakers.  The workshop took place in the beautiful facilities at Author Services, Inc, on Hollywood Boulevard.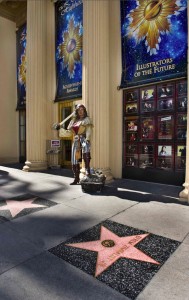 Rebecca and I were guest speakers at the workshop, along with Eric Flint, Kristine Kathryn Rusch, Dave Wolverton, Robert J. Sawyer, Doug Beason, Gregory Benford, Mike Resnick, Yoji Kondo, and others.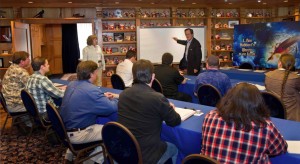 Tim Powers and KD Wentworth teach the workshop
Kristine Kathryn Rusch, Eric Flint, Kevin J. Anderson
Rebecca Moesta and Kevin J. Anderson
On Friday night, all of the new writers, artists, judges, and their guests mingled for a casual barbecue at the Roosevelt Hotel. It was our chance to get to know the authors of the stories we had read—Keffy KM Kehrli, Patty Jansen, Patrick O'Sullivan, Richard Johnson, Geir Lanesskog, Ryan Harvey, Jeff Lyman, Brennan Harvey, Van Aaron Hughes, Ben Mann, Adam Perin, D.A. d'Amico, and John Arkwright. We also got to know many of the award-winning illustrators, Dustin Panzino, Vivian Freidel, Nico Photos, Ryan Downing, Fred Jordan, Irvin Rodruiguez,Scott Hargrave, Meghan Muriel, and Joey Jordan.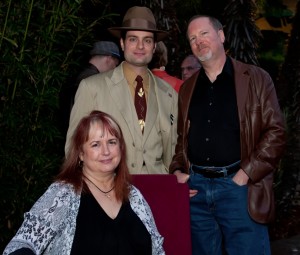 With Ryan Harvey at the barbecue
For the main event on Sunday evening, after makeup, getting into formal clothes, and setting up for photos, we gathered for the banquet. Rebecca and I sat with June Scobee Rodgers from the Challenger Learning Centers, John Goodwin, President of Galaxy Press, Josh Robert Thomas from the Craig Ferguson Show, and Jerry Pournelle and Roberta Pournelle.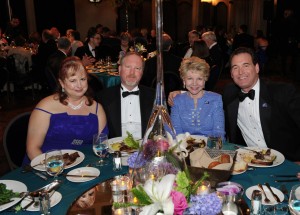 Rebecca, Kevin, June Scobee Rodgers, and John Goodwin
After the banquet, the crowds gathered in the Blossom Room, the same auditorium where the first Academy Awards were held.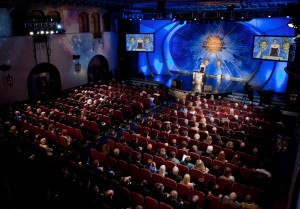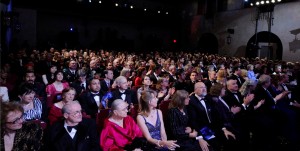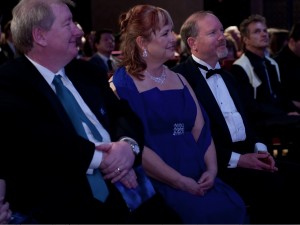 Illustrators of the Future judge (and Young Jedi Knights cover artist) Dave Dorman, with Rebecca and Kevin
The evening began with a spectacular dance performance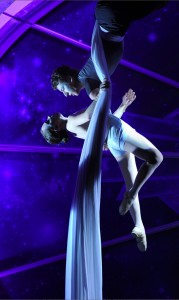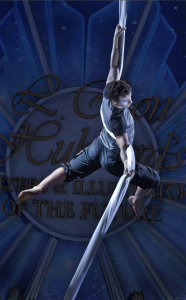 Rebecca and I presented an award to John Arkwright, author of "The Sundial"
Writers and Illustrators of the Future winners and the presenting judges
After the ceremony, all the winners, judges, and guests attended a reception and book signing to celebrate the release of the new anthology, L. Ron Hubbard Presents Writers of the Future Volume 27.