Writers of the Future Week, with side trips to Sisterhood of Dune, Hellhole Awakening, Terra Incognita #3 CD, and a new Dune short story
Rebecca and I just returned from five days in Hollywood at the workshop and awards ceremony for the annual Writers of the Future event.  The 12 winning writers from the past four quarters, as well as a published finalist and a 2010 winner who had not been able to attend last year, spent several intensive days with Tim Powers and K.D. Wentworth at the core workshop, learning how to research, develop, and write a story. On Thursday night, Kristine Kathryn Rusch, Eric Flint, and I joined the new writers for an impromptu Q&A session, and then on Friday Rebecca and I gave a two-hour lecture on how to manage a professional career.
More judges and instructors came in, including Robert J. Sawyer, Gregory Benford, Mike Resnick, Doug Beason, Nina Kiriki Hoffman, and Dave Wolverton.  Every evening, we also hung out with the new writers in the Roosevelt Hotel lobby, talking shop and answering further questions.  (The hotel bar had an excellent Racer 5 IPA on tap.)
Rebecca Moesta and June Scobee Rodgers in the makeup room before the
Writers of the Future Awards Event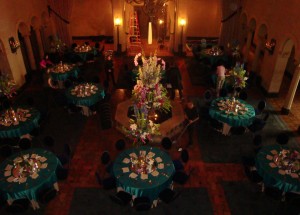 Banquet setup for the Writers and Illustrators of the Future Awards
at Hollywood's Roosevelt Hotel

When we weren't on stage, Rebecca and I had plenty of projects to work on—just because we were away from home, the writing still needs to get done.  The Writers of the Future staff generously provided us with quiet, empty offices at the main Author Services building on Hollywood Boulevard. Rebecca went over the final manuscript of Sisterhood of Dune, doing her fine copy-edit.  In the adjacent office, I spent the days fleshing out the chapter outline for Hellhole Awakening.  (It turned out to be 84 double-spaced pages—almost a first draft—but when collaborating, we need a detailed blueprint to make sure we're both in the same place.)
Meanwhile, I'm also expanding the lyrics and fleshing out songs for the third Roswell Six/Terra Incognita CD.  "No matter how far you sail, the horizon is always in front of you."  Nothing's finished yet, and we haven't even started working on the music with Henning Pauly, but we already have some very exciting performers on board for the recording sessions.  We hope to have the CD out in time for the mass-market paperback release of The Key to Creation in about a year, but we're trying to finish a sample track before the book's initial release this July.
And Brian and I are wrapping up a new Dune short story, tentatively titled "Wedding Silk," that takes place with young Paul Atreides in the pre-Dune timeframe. After I finish this edit, I will send it to Brian for his final polish. We intend to release it as an eBook as part of a collection with other Dune short stories.
While we were in Hollywood, I had other business as well, meeting two different movie producers who are working with me on film projects, as well as a computer game developer (who is looking very closely at Hellhole as a property).  There was much talk in Hollywood about film deals for Hellhole and Terra Incognita; I will post news as soon as anything's confirmed.
And I took a brief personal moment to go track down the Rush star on Hollywood Boulevard.  One fanboy mission accomplished.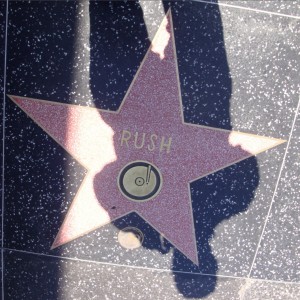 But our main work for the week was for Writers of the Future, to advise the new crop of writers and help them to become professionals. It's our way of paying it forward, in gratitude for all the writers who helped me when I was starting out. My Writers of the Future: The First 25 Years coffee table book is a good summary of the successes of the Contest, and I was very proud to learn over the weekend that it took first place in its category for the the International Book Award.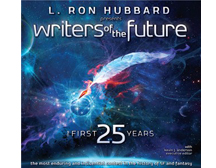 I'll post more photos from Writers of the Future shortly, as soon as I receive them. You can watch the video of the entire ceremony at http://www.writersofthefuture.com.
On our doorstep when we arrived back home in Colorado, I found several cases of books—my copies of the new paperback edition of Terra Incognita #2, The Map of All Things, and the Nebula Awards Showcase 2011, which I edited. Now I have to sign all the copies before they go on the shelves…