Writing Books (and Books on Writing)
With the numerous writing workshops and panels I give at conventions, as well as the big Superstars Writing Seminar coming up the first week in February, many people have asked me if I've written down any of my lectures. Yes, in fact, I released two books on my most popular talks this year, Million Dollar Productivity and Million Dollar Professionalism (based on the "Things I Wish Some Pro Had Told Me When I Was Just Starting out" talk we've given countless times).  Both are available in print and all eBook formats.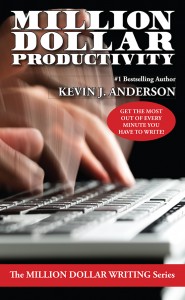 Life is crazy and hectic for most of us. With all those distractions, how does an aspiring author find time to write? 

Award-winning and #1 international bestselling author Kevin J. Anderson is one of the most prolific authors in the business. He shares his tips on how to find the time to write, and how to make the most of that time.
Print
Kindle
Kobo
Nook
Other eBook Formats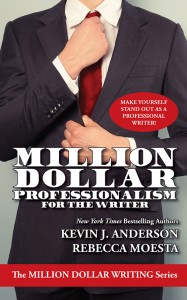 Since the 1990s, bestsellers Kevin J. Anderson and Rebecca Moesta have helped thousands and thousands of writers to develop the mindset of career professionals. Million Dollar Professionalism for the Writer presents lessons learned from the authors' decades of experience in publishing. They offer advice on working with publishers, editors, booksellers, and fellow authors, and using persistence and reliability to find continued work in the industry.
Their tips cover professional courtesy, building a network of colleagues, reading contracts, meeting deadlines (and the domino-effect consequences of missing them), dealing with critics, and how to earn and maintain a reputation as a true professional.
Print
Kindle
Kobo
Nook
Other eBook Formats
In addition, at WordFire Press, we've published several other useful nuts & bolts books on other aspects of writing. TV producer and screenwriter Steven L. Sears wrote The Non-User Friendly Guide for Aspiring TV Writers: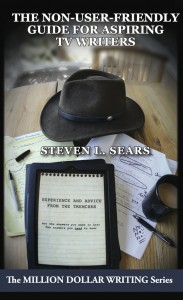 Steven L. Sears has had a successful career in film and television encompassing over three decades. From his beginnings as a staff writer on NBC's The A-Team, to Co-Executive Producer on the hit TV series Xena:Warrior Princess for MCA/Universal, creator and Executive Producer of Sheena: Queen of the Jungle for Sony/TriStar Television, and many pilot and development deals with major studios and production companies, he has amassed a huge amount of experience and knowledge about the inner workings of the entertainment industry.
In The Non-User-Friendly Guide for Aspiring TV Writers, Sears shares that experience and gives advice for those considering a career in television writing. Instead of the traditional academic and sterile approach, Sears answers questions from a personal, first-person perspective. These questions have been culled from the real world, people seeking out his advice and looking for the experience that most books don't have. Some of what he writes about are hard and difficult facts to accept about the business, while other times he gives his opinion based on extensive experience. All of it is unsweetened and direct. Even if you don't like his answers, Sears will certainly make you think hard about your approach and choices when pursuing a career in an extremely difficult Industry.
Print
Kindle
Kobo
Nook
Other eBook Formats
We also publish three how-to books by New York Times bestselling author David Farland: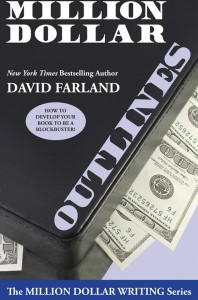 Bestselling author David Farland has taught dozens of writers who have gone on to staggering literary success, including such #1 New York Times Bestsellers as Brandon Mull (Fablehaven), Brandon Sanderson (Wheel of Time), James Dashner (The Maze Runner) and Stephenie Meyer (Twilight).
In this book, Dave teaches how to analyze an audience and outline a novel so that it can appeal to a wide readership, giving it the potential to become a bestseller. The secrets found in his unconventional approach will help you understand why so many of his authors go on to prominence.
Print
Kindle
Kobo
Nook
Other eBook Formats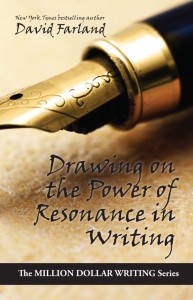 All successful writers use resonance to enhance their stories by drawing power from stories that came before, by resonating with their readers' experiences, and by resonating within their own works. In this book, you'll learn exactly what resonance is and how to use it to make your stories more powerful. You'll see how it is used in literature and other art forms, and how one writer, J. R. R. Tolkien, mastered it in his work.
Print
Kindle
Kobo
Nook
Other eBook Formats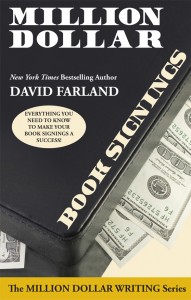 Million Dollar Book Signings will tell you everything you need to know to make your signings a success. This insightful book includes:
- Ideas for Alternative Venues
- Effective Publicity Strategies
- Optimal Dates and Seasons for Signings
- A Check List of Items to Bring and Tasks to Complete
. . .and more.
Whether you're a new author or a seasoned one, throw a book signing that makes readers leave wanting more–more books, more of you, and, more signings.
Print
Kindle
Kobo
Nook
Other eBook Formats