This Zombie's Cheap (but he ain't easy!)
Dan Shamble, Zombie PI is back from the dead and back on the case.  He's a well-preserved zombie, doggedly shambling along to solve cases featuring werewolves, mummies, ghosts, and other things that go bump—or Thud!— in the night. But sometimes he needs a little shove.
Kensington Books is doing just that, offering an amazing special for the next couple of weeks only—you can read DEATH WARMED OVER, the first full-length Dan Shamble novel, for a mere $1.99!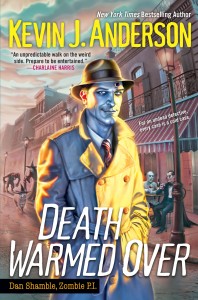 From now until March 25, you can download DEATH WARMED OVER for your Nook, Kobo, Overdrive, Sony eReader, or iPad for only $1.99.  (Not available for Kindle users, sorry.)
Here's your chance for a taste of my zombie detective…and I'm sure you'll say it tastes FUNNY!
And don't forget the other Dan Shamble adventures: